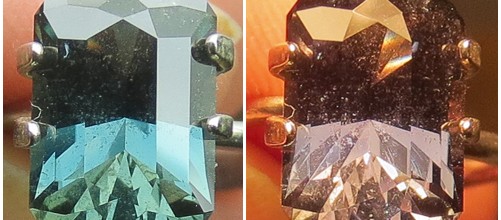 I finished recutting this sapphire for Wildfish Gems today. When I received the stone, it appeared to be an untreated blue-green sapphire (no surprise there; untreated stones are Ed's specialty). But after I finished recutting the stone, I noticed that it looked very different under my desktop diamond grading light than it did on my cutting bench… a few minutes with different light sources confirmed that this sapphire isn't your garden variety green — it's a color change stone. I love color change sapphires and have cut a number of them over the years, but I found this one particularly intriguing.
As you may know, sapphire is a dichroic gemstone. That is, the stone naturally exhibits two different colors depending on which crystallographic axis you're viewing. (NB: this is not color zoning). For the gemologist, this fact is very useful for separating sapphire from other gemstones with similar colors. But the gemstone cutter is mainly interested in orienting the stone so the best possible color is seen face-up.
Now, this stone was a recutting project, so I didn't get to choose the orientation of the stone. Rather, I had to work with what I was given: an overly long and sadly shallow blue green sapphire. Since my client wanted a custom-cut look for the stone, I created a design that would both maximize the yield and make the stone stand out from more generic cut goods. My design had an unintended side-effect; you're able to see both colors of this sapphire from the face-up position — and both colors change under different light sources. If you find this as cool as I do: welcome to the club, you're a gem geek.
Three images below demonstrate the color change under various light sources.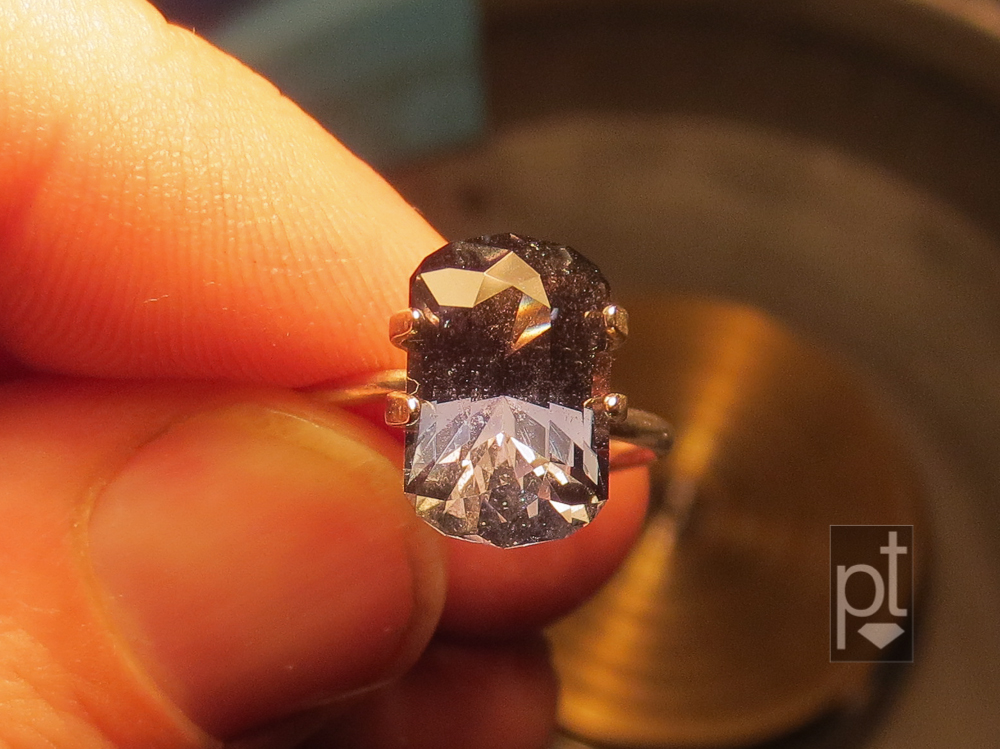 Here you can see both this sapphire's dichroic colors. In incandescent light, one color light violet, the other appears as a gray color with just a touch of violet undertone.
Under a standard diamond grading light, one of the colors has changed to a bright, even blue-green color; the other has become a distinct, slightly yellowish green.
Here, in common fluorescent lighting, strong blue-green and light blue-green can be seen in tandem.
None of these images have been enhanced or edited beyond cropping. Thanks to Ed Bristol of Wildfish Gems for letting me show off his stone.