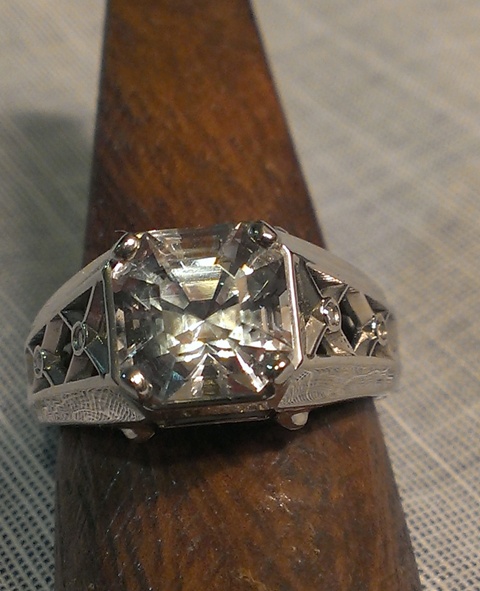 Last Summer, I was commissioned by Drew of DWDesign in Janesville, WI to cut a danburite asscher for a wedding ring set. Drew requested a portion of the rough from the main stone be cabbed for the man's ring. It was a little unusual, but I didn't think much of it at the time. Now that I see the finished rings, I understand the two stones make a wonderfully romantic statement. Drew's email below says it well. What a great idea for wedding or engagement jewels — and a great example of how custom-cut gemstones can add to the meaning & value of fine jewelery.
Danburite asscher: 2.82ct, 8.28×8.29×6.68mm
Danburite cab: .14ct, 2.98×3.48×1.11mm
The rings were a major wow, thanks to the main stone, which you cut, and I wanted to send you a couple of photos.

The rings were designed be derivative of each other; the feminine with the bright beautiful stone, and the male a simplified version of that glory. You cut a small cab to represent a small gesture of her beauty to always be carried with her husband in his simplified band. The plans of the two rings are the same, but different in their detail, as man and wife.

Both rings were done in palladium and I couldn't be more proud to tell anyone/everyone who asks that Peter Torraca created such a beautiful stone as the centerpiece.
…
I'm glad you got the pictures and the final results of your "custom ordered to perfection" lapidary work. I have no webpage to link as of yet. That's this years project, a functioning webpage. I'm just Drew of the self styled DWDesign, Janesville, Wisconsin.