Trade Pricing
The bulk of my work is for the jewelry trade. I take pains to direct retail inquiries to jewelers & retailers I know to be reliable and trustworthy: I make a point never to compete with my clients. After all, if I don't support your business, how can you support mine?
Gem prices are not listed online intentionally. I'm happy to provide pricing for my stones on request, but I encourage you to sign up for my periodic, trade-only new stone announcement list.
Trade Services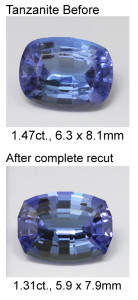 Consulting – I'm happy to be of service helping you understand, evaluate, or even sell your colored gemstones. I often provide informal consulting via email & chat for established clients, often for free if the question is not too involved. Otherwise, I'm open to longer conversations, shop visits and staff training sessions. Rates vary.
Colored stone repair – repair abrasions, chips and other wear-related damage to restore a stone to it's original beauty. Please inquire for pricing list.
Colored stone recutting – rework the crown, pavilion or an entire gemstone to recover it from significant damage or to improve performance. Please inquire for pricing list.
NB: I'm not the cheapest repair & recutting service in the market. However, I approach repairs & recutting as a craftsman. For repairs, I focus on absolute minimal loss. For each recutting project, I come up with a custom design for the given stone. This approach is slower & more painstaking, but your stone suffers lower loss for the effort.
Please note: I do not cut or repair diamonds.
Trade members interested in wholesale pricing, or any of the above services, should contact me directly. Please include your store name, address, phone number and any trade association memberships in your first email.