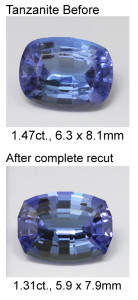 The bulk of my work is for the jewelry trade. While I do sell loose gemstones to specialized collectors and consumers who contact me directly, I make every effort to direct them to jewelers I know to be reliable and trustworthy. I make a point never to compete with my clients. That's why Torraca Gemcutting offers the following services exclusively to members of the gem and jewelry trade:
Trade pricing – wholesale pricing available on request.
Colored stone repair – repair abrasions, chips and other wear-related damage to restore a stone to it's original beauty.
Colored stone recutting – rework the crown, pavilion or an entire gemstone to recover it from significant damage or to improve performance
Colored stone cutting from rough – fashion a finished gemstone from rough
Please note: I do not handle diamonds.
Trade members interested in wholesale pricing, or any of the above services, should contact me directly. Please include your store name, address, and phone number the first time you email.